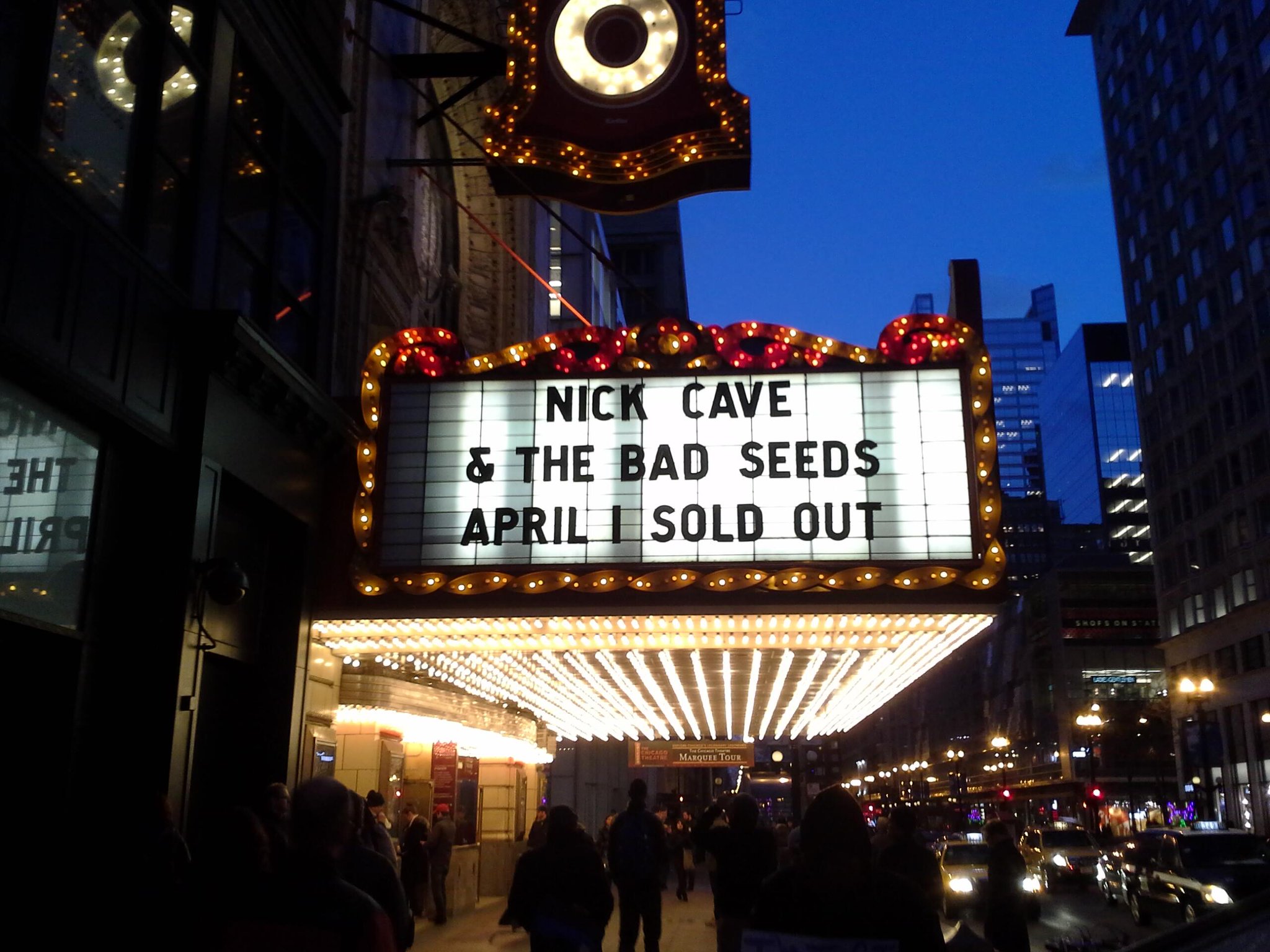 The real Stagger Lee, an African-American pimp named "Stag" Lee Shelton, killed a man in St. Louis on Christmas day, 1895, during an argument over a Stetson hat. The slaying became legendary thanks to a folk song called "Stack-a-Lee," "Stacker Lee," "Stagolee" or "Stagger Lee," depending on who was spelling it out at any given time. Early versions of the song end with "poor, poor" Stagger Lee hanged and then hauled off to the cemetery via a "rubber-tired hearse" and "a lot of rubber-tired hacks."
That's not how the song ends when Nick Cave sings it. The 1996 version by Nick Cave and the Bad Seeds — actually, a loose interpretation of the old folk story, with new music written by Cave and six of his bandmates at the time — turns Stagger Lee into even more of a bad ass. Or to quote Cave's twisted rendition of the words, "that bad motherfucker."
By the time Cave & the Bad Seeds performed Monday night (April 1) at the Chicago Theatre, they had transformed Stagger Lee into an even more powerful, frightening demon of a man. In Cave's live version of the song, the devil comes for Stagger Lee, and Stagger kills him, too. Cave was swaggering and writhing on the lip of the stage, lowering himself toward the outreached hands of the fans in front. The vulgar threats in the song's lyrics ("suck my dick, because if you don't, you're sure to be dead") became a leering come-on to the audience. Seeing someone in the crowd holding up a smartphone, Cave ad-libbed a new lyric: "In come the Devil with an iPhone in his hand."
Nick Cave concerts are rarely, if ever, anything less than stellar. Monday's show reaffirmed Cave's breathtaking power as a live performer — and all the strengths of the versatile Bad Seeds ensemble. The new record by Nick Cave & the Bad Seeds, Push the Sky Away, is a brooding, moody set of songs. Much of it is quiet, but a tension rattles underneath the songs, as if they might burst into noise and apocalypse at any time. That expected catharsis never comes, but that doesn't diminish the listening experience. If anything, it heightens the foreboding sense that something sinister is at play.
One of the new songs, "Higgs Boson Blues," returns to the Satanic sort of blues Cave evokes in "Stagger Lee." This time, Cave sings about the old legend about bluesman Robert Johnson selling his soul to the devil, but the lyrics take a strange and unexpected journey into the world of pop celebrities including Hannah Montana and Miley Cyrus. The song shows Cave at his most uninhibited as a songwriter. Like much of the album, "Higgs Boson Blues" feels like a phantasmagoria. (Dictionary definition: "a rapidly changing series of things seen or imagined, as the figures or events of a dream.")
Cave and his band began the concert with four of the new songs, including a version of "Jubilee Street" that climaxed with a more rocking jam than the studio version, and a sprawling, dynamic "Higgs Boson Blues." Then came a series of the Bad Seeds' golden oldies, a smattering of piano ballads, and a staggering "Stagger Lee" to end the main set. (The Chicago Tribune's Greg Kot has the full set list at the end of his review.) The encore was a pounding "Tupelo" followed by one more song from the new record, the title track, an album closer that channels all of those disturbances and hallucinations into a shimmering meditation. And then the phantasmagoria shimmied out of view.