Selections from my tweets at South By Southwest 2014. (Follow me at @robertloerzel.)
TUESDAY, MARCH 11
2:37 p.m. Landed in Austin #sxsw
2:52 p.m. I think those are grackles I hear. #austin #sxsw
3:11 p.m. Saw some actual longhorns grazing along the interstate. #SXSW #austin
5:33 p.m. Neil Young at #SXSW: "I'm running for president." (Laughter) "I'm Canadian. No. That'll never happen. That's a joke."
5:56 p.m. Neil Young at #SXSW: "I always thought the 'loudness war' was something that was going to be really fun."
5:57 p.m. Neil Young at #SXSW, on computer speakers: "Why don't they make some computers that have balls?"
6:31 p.m. Overheard at #SXSW: "Jesus is white people's fan fiction."
7:21 p.m. My first Google Glass spotting #SXSW
7:26 p.m. The rickshaws/pedicabs are out in force. #SXSW
7:45 p.m. Starting off the #sxsw music with Shelby Earl (who sounds great) at Javelina. Not sure about the rest of the night.
8:16 p.m. Totally random stop at Bar 96, which has Dutch bands all night. I am liking this one (Mozes and the Firstborn) a lot. Catchy, 60s-ish. #sxsw
8:44 p.m. I'd consider going to a venue with a power strip near the stage for cellphone charging. #sxsw
8:46 p.m. I'm sticking with the Dutch bands for now. Next up is the curiously named Mister and Mississippi, which I had on my "to see" list. #SXSW
11:20 p.m. Asian dude in a mosh pit wearing 3-D glasses: check #sxsw
11:36 p.m. This was a #sxsw first for me: a venue where the doorman didn't know the name of the venue (the confusing "Trinity Hall @ Old School")
1:30 a.m. Spotted at #SXSW: Chick in a black dress wearing a GoPro on her head.
1:56 p.m. Finishing my #SXSW night with a raging set by Together Pangea. Mosh pit is hopping.
2:03 a.m. I saw a Dutch musician, his shirt torn from the mosh pit, take off one of his shoes and sing into it. #SXSW
WEDNESDAY, MARCH 12
10:08 a.m. SXSW band bio: "their DNA is undeniably rock and roll."
10:58 a.m. Starting off my #SXSW day with an 11 a.m. set by a band from Bogota called LosPetitFellas … because … why not?
11:00 a.m. The Japanese band mothercoat, which impressed me several years back with an insanely intense show, plays at noon at the Convention Center.
11:13 a.m. There are 11 people here to see the band from Bogota, in a room that could hold more than 1,000. #sxsw
11:20 a.m. An annoying thing about photographing people on Austin Convention Center stages: ad logos in the background for Penzoil, Deloitte etc. #SXSW
12:53 p.m. Attending a lecture by professor Jarvis Cocker #SXSW
12:58 p.m. "Oh, I *hate* that noise," Jarvis Cocker says — as his Apple makes that volume-adjusting "bloop." #SXSW
2:29 p.m. St. Vincent, describing her early recordings: "It was a little more 'jazz hands.'" #SXSW
2:53 p.m. St. Vincent on singing about sex: "It's not being done to me. I'm in control of this. I'm a human being with sexual faculties." #SXSW
3:27 p.m. Holy crap, this South Korean band Jambinai is incredible. Traditional Korean instruments plus heavy metal. #SXSW
4:16 p.m. I got close enough to hear @AngelOlsen singing in the next room at Mohawk, but it was too crowded to get closer than that. #SXSW
5:12 p.m. No sign of Murray Hewitt at this New Zealand #SXSW party.
5:14 p.m. But there is dude wearing a black robe. #SXSW
6:06 p.m. This is where the action's really at. #SXSW
6:47 p.m. Up next for me at #SXSW is more Dutch rock: Pride of Joy, from Amsterdam, playing at B.D. Riley's
8:10 p.m. Beautiful performance by Uruguayan singer-guitarist Senor Faraon, marred by sound bleed from the back room of the venue (Speakeasy). #SXSW
8:37 p.m. Someone just asked me, "Are you Hector?" #SXSW
8:40 p.m. St. Louis hip-hop act Doorway is rapping through the windows of a truck driving down Congress. #SXSW
11:26 p.m. After seeing a lot of bands no one has heard of, I am finshing the night at Stubbs with St. Vincent and Damon Albarn. #SXSW
12:56 a.m. RT @statesman Reports are coming in of a car accident involving several people outside the Mohawk. Story is developing. 

2:55 a.m. At 2 a.m. I left Stubbs, a block and a half south of the hit-and-run scene. This was the view down the street.
THURSDAY, MARCH 13
10:05 a.m. I think this is because of the songs that bands tend to put on Soundcloud, but a lot of SXSW bands have cover tunes as their preview tracks.
10:06 a.m. Back to tweeting about the music at SXSW, I guess. Last night's tragedy certainly casts a pall over things.
10:22 a.m. Bad planning by someone last night at Stubbs. Damon Albarn was supposed to play 12:30-2 a.m., but didn't start until 1:20…
10:22 a.m. … And even then, there were sound problems. Needed more setup time after St. Vincent's set. She played a little long (but was awesome).
11:14 a.m. Gary Numan: "I've met Bryan Ferry twice — both times in toilets, doing different TV shows." #SXSW
11:15 a.m. Gary Numan: "If I'm recording a song and I think, 'That would sound good on radio,' I erase it." #SXSW
11:42 a.m. Gary Numan says he has Asperger's, which made it difficult to deal with stardom circa 1980: "I just wanted to make it go away." #SXSW
12:00 p.m. I've seen 3 Dutch bands at #SXSW this week. Great folks. I may well have encountered Steven Craenmehr, one of the victims, at these gigs.
12:52 p.m. Bob Mould doing an impromptu solo acoustic "Hardly Getting Over It" at the songwriting panel discussion #SXSW
1:31 p.m. Bob Mould, picking up the acoustic guitar at the songwriting panel: "If I hit this hard, will it be OK?" #SXSW
2:48 p.m. Chicago dude @babystew's #SXSW party is fricking crowded.
5:19 p.m. The Blind Shake are kicking out the jams at @babystew's #sxsw party. Also, nearly kicking me in the head. (Better back up…)
6:44 p.m. Starting tonight's #sxsw music with Dog Trumpet (from Sydney) at B.D. Riley's.
10:37 p.m. Rickshaw traffic jam at 6th and Neches. #SXSW
12:02 a.m. #SXSW pauses for a moment of silence. (At least it did at this venue.)
12:54 a.m. Walking in the alley because the street is too crowded. #SXSW
12:58 a.m. I didn't plan this, but 8 of 12 bands I saw at #SXSW today had female lead singers.
1:15 a.m. I saw bands at #SXSW today from Mexico, Australia, South Korea, Argentina, Scotland and Norway.
1:17 a.m. Checking it off on my #SXSW bingo card: Hot Norwegian blonde playing Theremin.
FRIDAY, MARCH 14
10:52 a.m. Instead of attending Lady Gaga's #sxsw keynote, I am at my hotel trying to figure out what I should see today.
11:13 a.m. "Drawing inspiration from bands like Weezer, Talking Heads, and the entire Tom Petty catalog, the band is pure songwriting excellence." (Another SXSW band bio)
12:24 p.m. I think I'll be safe from being puked on by Lady Gaga if I hang out here this afternoon.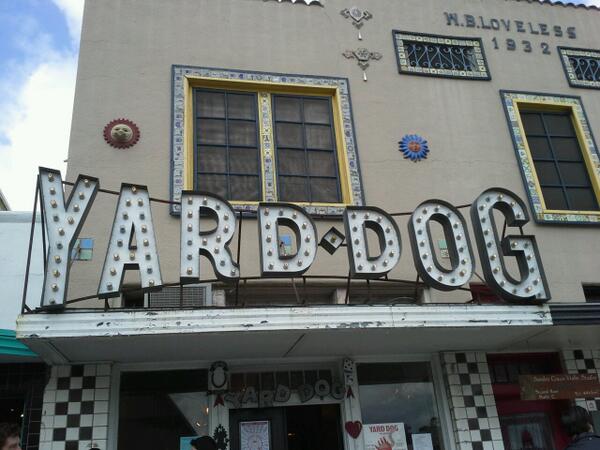 12:36 p.m. Though I'm trying to focus on seeing musicians at #SXSW I haven't seen before, I'm about to watch Robbie Fulks for the jillionth time.
12:59 p.m. Robbie Fulks to @BSHQ crowd at Yard Dog on his lost-cat saga: "The cat is now indoors. The house is locked." #sxsw @gapersblock
1:05 p.m. Robbie Fulks, pointing out Rosie Flores in the Yard Dog crowd: "I'm only calling out famous people. The rest of you can go to hell." #SXSW
5:52 p.m. Had a great time this afternoon at @BSHQ party at Yard Dog… Now, back to downtown Austin for some official #SXSW shows.
5:54 p.m. "We hope you've enjoyed our Neko Case tribute set… We're 'Little Neko Case,'" Lydia Loveless said. (They were actually her songs.) #SXSW
5:58 p.m. According to the hotel where I'm staying, #SXSW will end before it began. 

6:27 p.m. My close-up view of a Blind Shake guitarist's foot yesterday. 

6:30 p.m. And yeah, my camera got pretty close to Luke Winslow King's guitar today. #sxsw

6:31 p.m. And yes, I was standing awfully close to Lydia Loveless at Yard Dog. She didn't seem to mind. #SXSW

7:03 p.m. Randomly hearing Roky Erickson singing as you walk down the street. #SXSW
7:31 p.m. I'm sitting in a pew at the Church of Pitchfork. #SXSW
7:43 p.m. I hope Central Presbyterian Church sounds better for Angel Olsen than it does for EMA. Horrible mix, way too much bass. #SXSW
8:04 p.m. "This is mental!" — @jasonsaldanha of @soundopinions describing the huge line of people to see Angel Olsen and Pitchfork showcase #SXSW
8:13 p.m. Audience pro tip: Worst time to try engaging musicians in conversation is when they have 30 minutes to play. #SXSW
8:45 p.m. Was that Debbie Harry strolling down 4th Street? #SXSW
8:50 p.m. Oh, look. More people waiting in lines. #SXSW
9:09 p.m. If you like GBV, you will like this Columbus, Ohio, band I'm watching now at Lambert's: Connections #SXSW
9:54 p.m. I've walked 30 blocks in the last 80 minutes, just so I could see Connections AND Death by Unga Bunga. #sxswworkout
10:33 p.m. "We're from Norway. Or is it Sweden? Nah, it's Norway." — lead singer of Death by Unga Bunga #SXSW
10:58 p.m. Big brawl in the middle of 6th Street. People running. … Now the havoc seems to be subsiding. #SXSW
SATURDAY, MARCH 15
10:15 a.m. I forgot to drink coffee yesterday. #sxsw pro tip: Don't forget to drink coffee.
10:57 a.m. Last night's random #SXSW find: I quite enjoyed the set by Gulp, a band from Cardiff that includes Guto Pryce of Super Furry Animals… with a great frontwoman, Lindsey Leven.
11:02 a.m. OK, let's get this thing stated: Seeing Chilean garage rockers WatchOut! at the International Day Stage. (They were just in Chicago.) #sxsw
11:03 a.m. I am the only person in the audience right now for this set, which was supposed to start at 11. Sound check still in progress. #SXSW
11:04 a.m. Audience is up to 3 people. #sxsw
11:20 a.m. The audience is up to 7 people. WatchOut! is sounding great… No mosh pit, unfortunately.
11:21 a.m. Too early to mosh?
11:42 a.m. About 25 people in the room by the end of WatchOut!'s set. #sxsw
11:45 a.m. I think I'll hang out at the International Day Stage to see the next act, Sivu, from Cambridge, UK… #SXSW
11:46 a.m. … and then maybe I'll go to the @brooklynvegan #sxsw party at Red 7 for a while…
11:50 a.m. The #sxsw website has some pretty basic navigational problems. Like: Uh… where is that page I was just looking at?
11:56 a.m. I'm thinking that Hotel Vegas is the place to be tonight. #sxsw
11:56 a.m. I haven't been over there yet.
12:21 p.m. Enjoying the lovely, wistful songs of English singer-songwriter Sivu at the International Day Stage. #sxsw
1:21 p.m. Pro-gun-rights group marching down Sixth Street #SXSW
1:52 p.m. I just saw a fierce set by Protomartyr in the dim confines of Beerland. #SXSW
2:01 p.m. Dude in a patriot outfit walking down 7th Street. #SXSW
3:03 p.m. They did rule. RT @brooklynvegan: Ex Hex ruling on the outdoor stage at the BrooklynVegan day party #sxsw #marytimony http://bit.ly/1kTCpgJ
4:11 p.m. We're in the home stretch here… #SXSW
5:50 p.m. I guess this is where I'll be the rest of the day (and night). Hotel Vegas. #SXSW
10:09 p.m. That was quite a mosh pit for Bad Sports. #SXSW
10:10 p.m. I asked Shocked Minds' guitarist if they're going to play "Kalamazoo" (one of my favorite songs of 2013), and he said, "Oh, yeah." #SXSW
1:39 a.m. March 16 "Someone just unplugged me." –Guy singing Johnny Cash songs in the food truck court on East Sixth, after his power is cut off. #SXSW
1:45 a.m. There's a crowd in the Chevron parking lot and a man with a megaphone. #SXSW
1:49 a.m. The Doritos "Bold Stage" is quiet. #SXSW
1:51 a.m. A guy yells, "Want some weed?" at passing cars. #SXSW
2:01 a.m. Heading back to my hotel even though I COULD'VE SEEN ONE MORE BAND. Thus ends my #SXSW.
2:24 a.m. Keith Urban tweeted, "Keep Austin weird."
See my SXSW recap. … Photo galleries are coming!